Odirile Moloi is currently in a Group Private Practice in Pretoria and practices a lot of Endodontics. He always enjoyed the subject of Endodontics in his undergraduate years.
He obtained his BChD Degree at Medunsa (SMU) in 2005 and further completed his PGDip(Endodontics) in 2020 at SMU.
He has served in the Military Health Services as a Community Dentist from 2005 until 2007 where most of the treatment he performed was Root Canal Treatment
Moloi has had the opportunity to present cases in Endodontics and CAD/CAM Dentistry a few times at the Dentsply Sirona Training Centre in Sandton, Johannesburg.
He held Hands-on and Lectures on Endodontics in Kenya, Uganda and all over South Africa and has successfully completed his Training In CAD/CAM at the Sirona Digital Dental Academy in Berlin, Germany and at the Dental Innovation Centre in Bensheim, Germany in 2018.
Dr Phuti Marcus Molokommme qualified as a dentist at the University of Witwatersrand in 1998.
He worked in the a public Sector as a dentist at St Rita's Hospital till 1999 and opened private practices in Groblersdal, Limpopo and Middleburg, Mpumalanga till 2004.
He moved to the UK and worked as an Associate and then Independent Dentist till 2010. His area of interest has always been Endodontics and he continues in limited private practice time only performing Endodontics in Gauteng.
He is currently a DDG for Clinical Health Services in Free State Department of Health.
He draws his inspiration from clinical teaching and clinical innovations to realise efficiency and great clinical outcomes.
Went to Medunsa in 1998 to pursue a career in Dentistry (BDS). Completed in June 2004.
And he was posted in Mpumalanga, HA Grove Hospital for his community service.
After Com Service, went to work in Mecklenburg and Lebowakgomo hospitals respectively.
And later joined Platinum Health Company, after his first private practice attempt was unsuccessful.
2012- resigned from Platinum Health and opened his own Private Practice in Tubatse-Burgersfort up to date.
2013- Completed Post Grad Diploma in Orthodontics from the University of Pretoria.
2016– Completed his primaries (Anatomy and Physiology) from the University of Pretoria,
2018- Completed Post Grad Diploma in Endodontics from the University of Pretoria.
Accredited Dentsply-Sirona OPL.
He has given Endodontics lectures extensively in and outside of South Africa.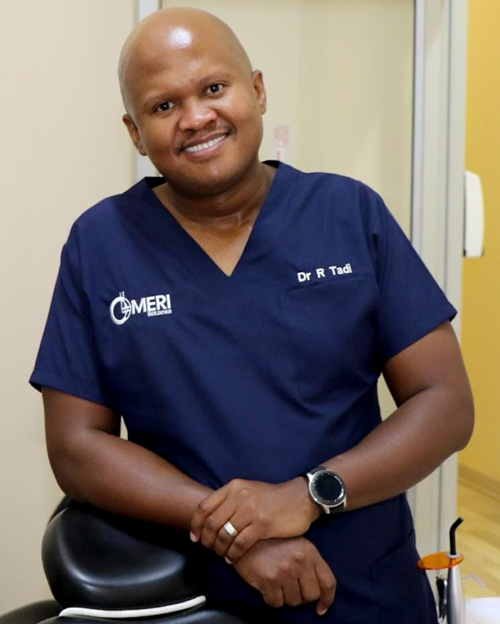 Dr Ratsatsi Tadi received his BDS SMU (MEDUNSA)(2007) and  Post Graduate Diploma (Endodontics) 2020 from the University of Pretoria.
From 2017 to present: He served as a National Secretary General followed by a term as Treasurer for the Dental Professionals Association (DPA)
He acquired vast knowledge and experience while working in the Public sector (2008 to 2015).
His passion and love for Endodontics started from his private practice "Comfort Dental Care", Where he does Endodontics, Orthodontics, Prosthodontics & Basic Dentistry.
Director at DR SIBUYI BI INCORPARATED – June 1999 to date: independent general private dental practitioner in Hazyview, Mpumalanga (South Africa). Key Option Leader (KOL) and Endodontics presenter with Wright Millners.
Medical University of Southern Africa (MEDUNSA)-BDT 1994 and BDS 1999.
Management College of South Africa (MANCOSA)-MBA 2015.
Certificate in Implantology (UP)-2017.
PGDipDent (ENDO) Cumlaude – SMU-2020